Back to main Blog
Ryan Quinn
7 MIN READ
Volunteers are like oxygen for nonprofits. Planning and managing events, fundraising, and increasing community awareness for your cause are only possible with the help of volunteers.

However, volunteers are only as effective as the communication channels used to coordinate their efforts and align your messaging. Referring people to a dedicated signup page on your website can be useful to recruit volunteers but getting them back to your site for important updates is difficult. Using email to sync up volunteer teams can be frustrating because of low open rates. Emails get lost in the noise of inboxes.

So, what's the solution? Use text messaging to create an immediate call to action that stands out from the noise. Text messaging is a channel that's personal and immediate—with 90% of messages being read in less than 3 minutes. Take it to the next level and add a hyperlink in the text message to create a frictionless way of driving volunteers to landing pages with focused content and targeted calls to action.

We've put together a short list of the 3 most effective ways we see nonprofits using text messaging to overcome their biggest challenges and better communicate with volunteers.

Here we go!
1. Recruit and retain volunteers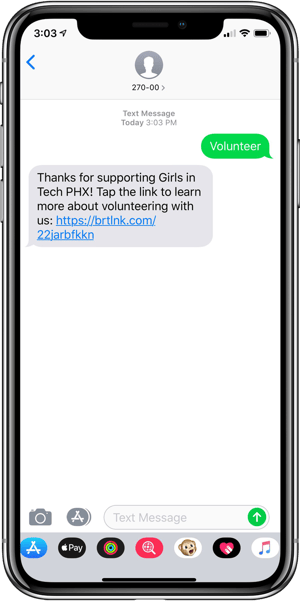 GROW YOUR LIST
Use a text to join keyword (ex. "VOLUNTEER") to drive volunteer signups by promoting it on all your channels. When people text that keyword to a phone number reserved for your texting campaigns, they are opting-in to receive your messages. For example, you can put the following call to action on print materials, social media posts and email blasts:
"Want to be a champion for our cause and make a difference? Text VOLUNTEER to 27000 and volunteer today!"
Promoting text to join at events is another effective way to grow your list of supporters who want to receive your messages and get involved.
VOLUNTEERS KNOW OTHER VOLUNTEERS
Your current volunteers are one of the best ways to recruit new volunteers. Their peers tend to share a similar passion and willingness to support the causes they care about. Text messaging makes it easy for your volunteers to share the opportunity with contacts in their phone to sign up as a volunteer.
REENGAGE AND RETAIN
Once your volunteers have opted-in to receive text messages from your nonprofit, you can send recurring messages once or twice a month to stay top of mind.
Here are some reasons to send recurring messages outside of active volunteering times:
Thank volunteers

Provide updates on how their involvement is making a difference

Make it easy for them to share content and tell your story

New volunteer opportunities

Volunteering reminders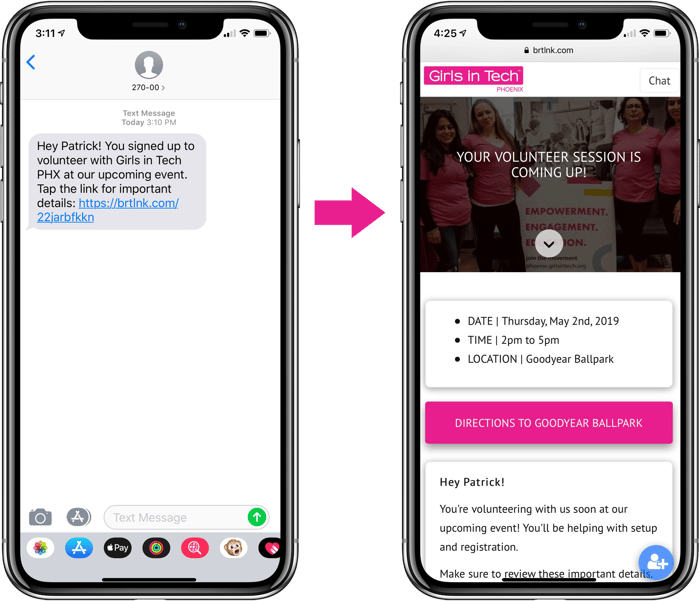 2. Feedback from the frontline
VOLUNTEERS SEE IT ALL
Your volunteers are in the trenches working hard to support your cause. They see what works and what can be improved. Text messaging provides an easy way to collect valuable feedback so you can continually improve their experience and streamline operations.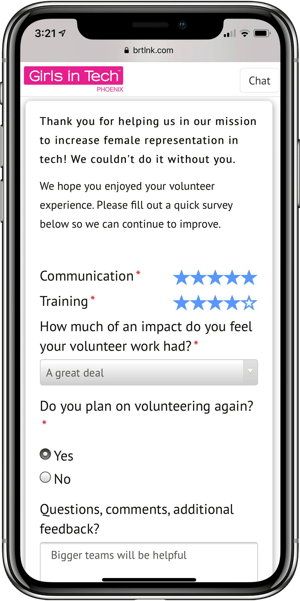 SURVEY FORMS MAKE IT EASY
Some text messaging platforms give you the option of having people text their responses to questions you ask in the message. While this can work to capture feedback, a more effective way of getting responses is to create a form to capture more detailed and personal answers. Then send a text message with a link to the form. This is an effective and personal way to show your volunteers you care about their feedback and want their input moving forward.
3. Landing pages!
GO BEYOND THE MESSAGE BUBBLE
While text messaging makes it easier to grab your volunteers' attention, there's only so much you can fit in a text. And text alone doesn't satisfy the overwhelming demand for a content-rich experience that people have come to expect from their communication channels. The answer is simple: include a hyperlink to a mobile page in your text messages. The text message is the tease to entice people to tap on the link and get them out of the message bubble where you can maximize engagement for your nonprofit in browser.
USE MICROSITES + TEXT MESSAGING
What are microsites? Microsites are a series of highly targeted mobile pages designed to get people to take action.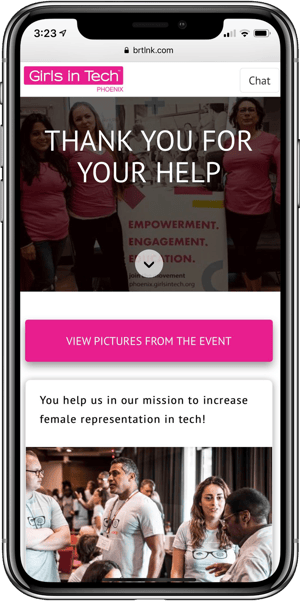 BrightGuest is a powerful example of how you can easily build microsites that are delivered through text messaging. It automatically segments your audiences based on their behavior in real-time and rules you set. This personalizes messaging and content to each individual and maximizes the likelihood that action is taken.
Using our drag and drop builder, you can include any type of content: images, videos, build forms, and even embed Instagram or Facebook posts in your mobile pages. You don't need to write a single line of code or pay developers. And best of all, you can create these microsites in under 15 minutes. Because time is one of the most valuable resources for nonprofits.
The big takeaway
Let's recap... it's important to use all available channels to drive volunteer engagement. But it's even more important to connect with volunteers through the channel they use most—text messaging! Text messaging is a powerful and frictionless way to capture attention, stay top of mind, and enhance the volunteer experience. Delivering microsites through text messaging is a highly effective strategy to better communicate with your volunteers and help your nonprofit thrive.