Back to main Blog

BrightGuest
4 MIN READ
This guest blog is written by Kay McDonald. Kay is the Founder and CEO of Charity Charms. She is on a mission to use charms as a force for good. Charity Charms is an industry leader in custom cause jewelry and accessories. Connect with her on LinkedIn.
Throughout our lives we hear many stories. Whether they come from our parents, classes, or from strangers we encounter, we all take something with us from these interactions. The reason these moments stick with us is because of the art of storytelling. When you have a passion for a cause or an organization and the work they do, you want to share it with the world. Cause jewelry featuring your logo elevates your brand and allows you to carry your story further.
Here are 3 reasons you should use custom cause jewelry to tell your story.
1. Word of mouth marketing
Word of mouth marketing works because we are more likely to take recommendations or care about things those closest to us care about. This is especially true when there is a compelling story behind your cause. Stories build connections between people. In fact, charms have been used for centuries to tell stories and build community among people. The work you do is important and your supporters know it. They want to get the word out, and a wearable token of their support begins the conversation.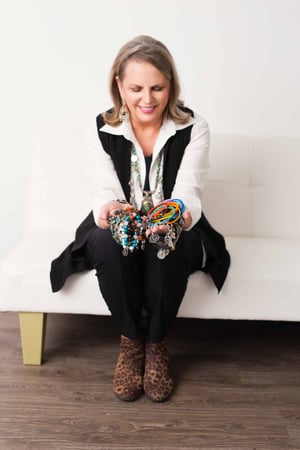 Photo by Jean Laninga
2. Embraces your story
Custom cause jewelry and accessories allow you to tell your story in a unique, special way. Your story is your own and your story matters. You can tell it your way through a product that is custom made just for you…right down to the packaging, composition and colors. People will buy cause products that matter to them and, as a result, they will wear them with pride daily. Jewelry that tells a story has the power to create positive change and bring something special to the world.
3. Makes a supporter part of the experience
Anyone can make a donation and walk away. You want to build a relationship with your supporters. Not to mention make them recurring donors and longtime supporters of your cause. Supporters can serve as brand ambassadors and drive your messaging more effectively as they have their own networks who may see them as a trusted source. Having cause jewelry gives your supporters a fun way to showcase their passion for your organization. They will feel like a valued member of your community.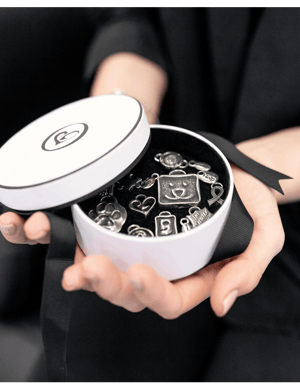 Photo by Jean Laninga
Recap
Custom cause jewelry and accessories are the perfect way to redefine and brand your cause. They have many uses whether you're fundraising, showing gratitude, or simply giving them to supporters. Charity Charms creates custom cause products and campaigns that marry the branding and message of your organization. These cause products provide you with an effective and wearable way to create a Cause Marketing campaign that helps you spread your passionate message to the world.
PRO TIP
Expand the reach and impact of your Cause Marketing campaign with text messaging. With the amount of marketing noise these days, it's hard to stand out and make sure your message is heard. Use a platform like BrightGuest to connect with your supporters through text messaging and tell your story with their personalized mobile pages. Your supporters want to hear from you, so reach out to them on the channel they use most–text messaging!