3 MIN READ
Remove me from this list please.
Are you making it easy for people to unsubscribe from your text messages?
We're excited to announce that we've released a Natural Language Processor (NLP) engine to process text message opt-outs. It gets smarter over time, learning to understand language nuances that indicate opt-out intent.
NLP uses AI machine learning to help computers better understand human communication.
As we humans read a sentence, our brains decode that series of words and make associations between them to understand the broader context. This capability is what NLP simulates by breaking sentences into smaller units called tokens. Computers then use rules to understand syntax and word relationships by finding patterns. This process gets better with more training data to learn from.
From Google translate and Amazon Alexa, to human-like chatbots and flagging social media hate speech—NLP is at its core.
Why is understanding opt-out intent so important?
Knowing when people want to stop receiving your text messages is extremely important. Not only because you want people to have a stellar experience with your brand or cause, but you're required by law to honor opt-out requests. And not honoring opt-out requests comes with fines!
Other than replying with the standard STOP to opt-out, our data shows that 80% of opt-out requests are sent using natural language.
We've analyzed years of data to look for how people respond to our customers' text messages. We specifically studied people's responses indicating an intent to opt-out, and a majority were opt-out requests outside of the standard STOP, UNSUBSCRIBE, QUIT commands. Meaning people who don't want your text messages are asking to opt-out in phrases and sentences.
The Cellular Telecommunications Industry Association (CTIA) publishes best practices for businesses that use text messaging to communicate with their customers. One of these guidelines states that you have to remove people from your text messages if they reply with additional opt-out keywords such as, stop, unsubscribe, quit, remove, cancel, opt-out, end.
But you can't list all the ways a person can opt-out in your text messages. Typically businesses let their audiences know they can opt-out by replying STOP.

Other than replying with the standard STOP to opt-out, our data shows that 80% of opt-out requests are sent using natural language.
The importance of easily unsubscribing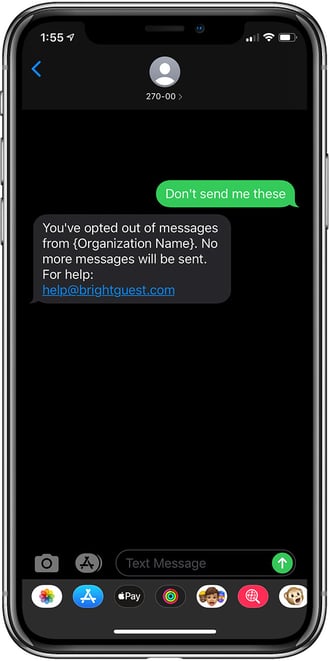 People in your text message campaigns will send opt-outs like, "Don't send me these messages; Remove me from this list please; You have the wrong number; This isn't Andrea."
However, nearly all text messaging software companies only process opt-out requests based on the standard opt-out commands we talked about above.
This can only lead to problems, right? The worst scenario is if someone is asking to be removed from your text messages and your text messaging software provider doesn't understand and continues to send text messages to that person.
Not only are you legally required to opt people out of your messages if they don't want them, but making it easy for your audiences to remove themselves is one of the reasons text messaging works so well. Think of it as a self-filtering list, where only the people that crave your content are the ones receiving it.
We understand the impact NLP has on optimizing your text message campaigns. We want to make your communications inspire action, and that's why we built this powerful new technology that ensures your audience is taken care of and your text message campaigns are compliant.
Disclaimer: we're not lawyers and the above text is not intended to provide legal advice. We recommend seeking legal counsel if you have any legal questions.